About Leck Linux


.
this section of leck linux will be 2 fold. until leck linux is installable and functional, I will be keeping instructions how to install and set debian up, because debian is what i'm basing leck linux on due to the fact debian is the best free linux to my knowledge. if you are reading this and are not that computer savy, i suggest trying the leading linux distribution which is currently "linux mint".
.
debian operates faster than mint probably, is the most popular (if you count how many linux distributions use debian), and installs without any bugs i've ever seen. i haven't found a bug free install of linux which runs entirely in ram, because that would operate faster.
.
so this section will only cover how to install debian the easiest and best way until i release my first leck linux installation cd (also called an image (.iso)) this is pretty much the best free operating system you will be able to install if you can get through the complicated installation and setup after installation.
.
the first public version (release) of Leck Linux is scheduled early 2015. if you want to find out more details and beta downloads of leck linux, please message Leck your email address or instant messanger screen name (and type of instant messaging client also obviously) and i'll add you to the leck linux monthlyish newsletter, which also tells a little about my current life. my contact info link is at the top of this webpage under the private comment link. Please make sure to tell me you are interested in signing up for Leck Linux newsletter in the message.
.

.
screenshot of the leck linux splash screen: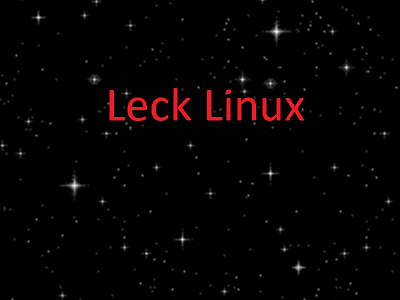 .


Installing Leck Linux


.

.
note that this works at this time, but things change so this might not work 1 day after i wrote these instructions. i don't manage debian, so if they change something and you use the most current installation image of debian (which you should) it just might not be the same as what i wrote here. i'm not going to explain everything, like how to boot into a cd rom, because if i wrote this for the non computer savy user, it would be more than twice the amount of words.
.
the first thing is to download the "net install" (meaning network installation image) of debian i suggest i386 or x86 in ".iso". (using a windows computer you can burn a cd with this http://cdburnerxp.se/ ) you need to connect your computer to the internet with a wire if debian does not recognize your internet connection during the installation. this is extremely important, because debian does not include a lot of wireless drivers in the netinstall even though the netinstall image only takes up half a cd in size. if you do not have a wire to connect your computer at this time (or it's impossible to connect your computer to the internet with a wire) it is very difficult to install and update debian after installation. it's easiest to install debian and after debian is finished installing. if debian boots up and has an internet connection, then you can keep using debian. if debian didn't have an internet connection during the installation, i suggest uninstalling debian right away unless you want to search the internet on another computer and transfer a few required packages to the debian computer via usb flash drive and then install manually (which is a headache but it's possible). the goal is to get an internet connection. debian will handle the rest, like installing wireless drivers after it's connected to the internet, so you can unhook the wire (ethernet cable) from your computer after wireless works. (because wireless is better in almost every way)
.
assuming you have installed debian and have one of the guis operational with an internet connection (it looks kinda like windows more or less) and are logged in as an administrator or root. if you aren't on the administrator account (or don't know if you are on the admin account, you probably aren't on the admin account), you need to log off and log in on the admin or root account to do these things. there really isn't a reason to use a non admin account anyway. the makers of debian are plain wrong when they say that it's not a good idea to use an admin account. trust me that i know more than the lead developer of debian, which is why i'm efforting my own linux distro. debian does things correctly but not in the best way. debian is the best linux distro from the few dozen distros i've tried, but that doesn't mean debian is faultless.
.
you can disable your internet connection AFTER you update, install software, and then update one last time (updating with apt-get update and apt-get upgrade) below are programs you want to install and things you want to change if you have enough hard disk space and aren't using linux in a commercial workplace environment (you wouldn't be reading this website if you were managing debian in a workplace environment anyway). using "root terminal" (there is no reason to ever use terminal) run apt-get update and upgrade. this is the backbone of updates with debian. you should disable the debian updater (i'll add how later) and use apt-get upgdate and apt-get upgrade to update software every 1-6 months (and after installing any package). things below for root terminal, you should highlight, copy, open up root terminal, right click, left click on paste, and press enter to execute the commands. control V does work for most things in debian, but control v does not work for root terminal (which is probably a good thing) also if these commands aren't working, try adding sudo or su with a single space in front of terminal commands
.
using root terminal
.
to update all software and the operating system itself
apt-get update
apt-get upgrade
.
to install skype
apt-get install libxss1
cd /tmp
wget -O skype-install.deb http://www.skype.com/go/getskype-linux-deb
dpkg -i skype-install.deb
.
to install any software you want, it's best to use synaptic. half of the programs aren't included in synaptic, so you need to download the package in .deb (or change the package to .deb after downloading with "alien") and then install using the next command below. note that you cannot use apt-get while synaptic is open.
.
if software isn't in .deb you need to do this to change it to .deb and then look in your "\home" folder for the .deb package
.
use synaptic to install alien
after installation close synaptic and in root terminal write
alien "package path and name without quotes"
(example alien /home/leck/Desktop/fedoraprogram.redhat)
then to install a .deb package
dpkg -i "package path and name without quotes"
(example dpkg -i /home/fedoraprogram.deb)
there are 3 different types of programs. the best is a gui interface with a shortcut in your applications folder. other applications start by typing fedoraprogram in your root terminal and pressing enter, or for non executables you will have to write fedoraprogram with a space and arguments depending on what you want to do. you can also install things which are not applications at all using alien and dkpg -i.
.
there are 4 ways to download and install programs in debian gnome as default. from best to worst... synaptic, apt-get install "program name with extension but without quotes" (this only works with .deb packages and programs packaged for debian and installed on the debian repository, so you probably can't download opensuse with apt-get install for example, and skype isn't on the debian repository for example), download package and dpkg -i, or use a recursion app to download the package from an ftp webpage and then dpkg -i to install (if you have to use recursion it means the app developer didn't put any effort into making it easy for the end user to install and the program will probably be difficult to use).
.
to enable videos in iceweasel (like youtube)
apt-get install flashplugin-nonfree
.
below are software and libraries which should have been included with debian, but weren't for whatever reason (nonfree or bad default package selection by the debian staff) you should use synaptic to install these
.
using synaptic package manager
.
the best audio and video player
vlc
.
probably the best audio editor (it has a crappy audio player built in for convienence)
audacity
.
this program is the best disk memory formater (which means erasing mass storage and flash disks). it does other less important things along the same lines too. it cannot format your master hard drive running debian, so make sure you don't format C: with gparted, because gparted will try and get interrupted when debian crashes and corrupts at the same time 8) gparted should transfer your current os to ram in order to format the master hard drive, which is something i will include in leck linux, but gparted cannot do currently.
gparted
.
to enable file sharing with the operating systems not shared with by default (it doesn't hurt to install if you are unsure)
samba
.
optional commands and information
.
some helpful things about debian
.
moving your mouse to the top left of the screen shows 2 tabs (windows and applications). if you move to applications, "system settings" and "advanced system settings" are everything you need to customize your graphical user interface of debian gnome.
.
the popups at the bottom of the screen are helpful, but it can disable your mouse at the very bottom of the screen for 3 seconds and slow down your computer minutely. to disable the popups at the bottom of the screen (they are enabled by default in wheezy) use this command
chmod 0000 /usr/lib/gnome-disk-utility/gdu-notification-daemon
.
after installing samba, to enable sharing and other important things open up a root terminal and paste the text below. i think you should always be operating in administrator mode for file browsing, but even in the most powerful type of user account, you still aren't defaulted to having admin privledges in your file explorer, even though windows always runs in admin. i suggest right clicking on desktop and sharing the entire desktop folder unless you have something you don't want someone in your residence to see.
gksudo nautilus
.
when i first started looking into linux as an alternative main operating system for my computers in 2007, i wanted to operate 100% in text, but i didn't know that you cannot navigate half of the websites using a text only interface. installing and running debian then running root terminal is the best and fastest way to operate a computer which can do everything. for example you can run an application by typing in the exact name in a root terminal, instead of double click and wait in windows, which is the fastest possible way to open anything in windows. The terminal in debian looks like dos, and functions very much like the command (msdos or run) app in windows
.
to uninstall software (i haven't figured out how to install this yet, because it was installed by default in ubuntu)
autoremove
.

User interfaces anchor link

.
binary BI -
if you want to build a type of computer, you start here
.
machine TUI -
this is the most basic of interfaces with a computer. i want to eventually use this type of programming language to make my operating system. this would be the last thing i do. machine language is probably perfect in that all it does is make it so you don't have to look at binary to program. it probably reduces the binary to hexadecimal (16 different characters) instead of looking at long lines of base 2 (1s 0s and spaces). (our number system is base 10 and the english alphabet is base 26)
.
dos TUI -
i'm sure everyone who has used a computer has seen dos. it's what you see when a computer first starts, and it's in english (or your native language). it's a very simple form of basic programming where there are only about 100 commands. all current operating systems use a form of dos to build upon
.
linux TUI -
similar to dos with many more than 100 commands. it simplifies things like ejecting a cd rom and downloading from the internet. Linux is the free form of unix
.
debian TUI -
there are a dozen main types of distributions of linux. I use debian because you can run either of the 2 most popular free GUIs from debain: ubuntu or mint
.
ubuntu GUI -
even though you can use graphics in any operating system, ubuntu attempts to copy the way other operating systems function for user familiarity. there are more computers than people in america, so this is a good idea.
.
Leck Linux GUI -
this will begin with my own distribution of linux. there are hundreds of popular linux distributions, but i won't stop here. i want to redo ubuntu next and eventually redo all the levels in this section. the good thing about using Leck Linux instead of others like Mint is that i have tested the best type of each software, and i will make linux easier than windows/mac/otheroses to use. updating and installing software does not have to be complicated. why does windows make you run windows update 4x after installing windows? why isn't free software loaded with other operating systems that allows you to do what you want with a computer. why isn't software free? i don't have a problem paying for better software if you work with a computer professionally, which is why when you buy a computer, you should be able to have a free operating system that is easy enough a child or grandparent can use it without being taught.
.
audio user interface -
siri, dragon, and Leck skeleton AUI are types of this already. most new devices have some form of speech input now.
.
cranial user interface -
they are making astonishing progress in this type of interface. the first breakthrough was a toy car that would drive or stop depending on what you think.
.

definitions anchor link

.
Binary Interface -
computers (and your brain) operate on electric or light transmission where when the electricity (electrons) or light (photons) is being transferred over a predetermined time period, it returns a 1 and if nothing is being transferred it returns a 0. This interface isn't usually used by a human because it's only 0s, 1s, and spaces on a computer screen.
.
Text User Interface (also referred to as command line interface) -
we still default back to text user interfaces with the interfaces below, because there have always been faults in every os that i've seen, which is why you need to be able to access the text based interface to fix those problems.
.
Graphical User Interface -
using a mouse (mostly) and keyboard. because of the popularity of windows, most GUIs are box based. it could have been circles or appear like you are reading a book if windows didn't become popular.
.
Audio User Interface -
this is being developed and implemented now. it means you speak to a computer and the computer is able to do what you want instead of using other ways of interfacing.
.
Touch User Interface -
this is a cool idea but it's not being handled the correct way in computers yet. there are major problems with trying to use touch screen controls on software designed for mouse and keyboard. it is possible to do this correctly but it will be consumed by a motion user interface when they realize you are touching a mouse and keyboard instead of touching a surface that works very similarly to a computer mouse.
.
Cranial User Interface -
it's being developed now. this means you think and a computer is able to take inputs from your thoughts. the helmet needs to be calibrated to the person's brain because every brain is different. this doesn't mean that a computer will be able to read a person's thoughts. scientists are still a ways away from decoding thoughts and memories of a brain. the brain isn't just encoded. the brain has a quantum entanglement, and is a much more powerful computer than we have nowadays for the space used. the human brain is inefficent (due to inability to use a brain properly) so people don't realize how powerful their brain is.
.