.
last updated
012918
.
note to leck: add an animated picture
.
creating a video
.
if you already have a video or a video dvd skip this section. if you want to record or stream video skip this section.
.
you can create videos from scratch with your computer or a camera. you can also do a combination of creating videos using your comupter and a camera.
.
to record video with a camera, you need a camera of some kind. using a hand held video camera or a smart phone, after you record the video you want to get the video to your computer somehow. if you are using a normal web camera, the video will be easily saved directly to your computer because the webcam is already hooked up to your computer. external video cameras usually have their own permanent store (hard drive), so you need to transfer the video to your computer. most external cameras just need to be hooked up to computers nowadays, and you can use a file explorer in your computer's operating system to copy and paste the video. after the video is on your computer's hard drive, you should attempt to watch the video using vlc media player or another type of video player. vlc will work with all video formats, but other video play software doesn't play all video formats (extensions) like mp4 or avi.
.
to create "animation" you can use hand drawn cartoon animation or computer software. with hand drawn animation you make each picture in a computer or on paper and then put them together using kdenlive (see below for instructions for kdenlive) if you draw pictures on paper you need to scan each picture into a computer. you can alternatively create the video entirely in the computer using 2d or 3d animation software. a 4th option is drawing each picture on your computer frame by frame instead of using paper and scanning the paper. adobe illustrator was the best i used for 2d graphics but it isn't free . blender is your best option for free software to do any kind of 3d graphics. blender does not have an undo feature by default. adobe illustrator is not free. there is probably decent free software to do 2d graphics now. see my 2d and 3d graphics page if you want to create individual frames and then put them together later (http://www.lecksite.com/picturesshapes.html).
.
NOTE TO LECK: ADD 3D GRAPHICS SECTION ON THIS PAGE
.
editing a video
.
you have a video or many videos you want to edit or combine. if you do not have a video of some kind, see the section above. if you have a movie dvd you want to copy, skip to the next section.
.
there are 2 main types of software i suggest to edit videos.
.
freemake video converter
.
this is your most basic video editor. it changes the format of videos (avi to mp4), pulls audio out of videos (avi to mp3), or combines videos. there is very little actual editing of videos included with freemake. if all you want to do is put 2 videos together freemake is very easy to use, freemake adds a 5 second logo to the beginning and end of videos unless you pay to disable this feature. while this logo is annoying, it's a small price to pay for great software, and freemake doesn't do anything when editing audio.
.
kdenlive
.
this is your full featured video editor. the windows version is in beta, and it's actually confusing to install, but will get the job done with minimal learning. there is a lot to explain how to use kdenlive, but i will do that later. splitting videos is the most unintuitive method i've seen in any software, but it can be done. it just takes a dozen clicks and you have to know "cut" means "split". cut usually means 'cut and paste' not 'split'. cutting videos is one of the most common things and should not require 12 clicks to do it, but kdenlive is your best option for a free full video editor. it will do everything the average person wants in video editing.
.
when installing kdenlive on windows make sure you open kdenlive from the correct folder. you start kdenlive.exe from the downloaded folder and it creates all the folders it needs to. then look in the "settings, configure kdenlive" and find the path for your kdenlive (it will be in a different folder which has 'temporary' in the path somewhere, but it's a permanent folder). close kdenlive and open the kdenlive.exe from that temporary folder and it should all work fine from then on. you might have to download libraries for mp3 and other protected formats. it's not the easiest software to set up, but it's worth it once you install it.
.
copying and creating movie dvds (video dvds)
.
it is 100% legal to break copyright protection on a movie dvd you purchased the physical dvd. it is only illegal to distribute a copy to someone else or allow someone else to view your dvd while you still own a copy. even if there is no copyright protection on a dvd, it is illegal to copy or hand it to another person. these things are rarely ever enforced though. in my opinion the laws need to be reworked, because an unenforcable law is not a good law.
.
1. the best method is the first you should attempt. use "dvd shrink" to rip (rip means to copy a movie off of a video dvd) the dvd into VIDEO_TS and AUDIO_TS folders. burn it (burn means to write data to a movie dvd) with http://www.dvddecrypter.org.uk/ or https://cdburnerxp.se/index.php "video mode". (windows has its own built in burning software, but often this built in burning software is difficult to use and does not work all the time).
.
this method keeps the menus "in tact", but does reorganize the video files and lower the bitrate sometimes. still, i don't know a better way to keep menus on a simple click copy method of copying dvds. i know this does not work in windows 10, so you can use linux mint and WINE which will run dvdshrink successfully. you can transfer the file to a windows computer and burn it with cdburnerxp or burn the dvd in linux with brasero.
.
2. same as the method in step 1 but try ripping with dvd decrypter instead of ripping with dvd shrink. if this does not work or creates a dvd file larger than 4.7gb you will not be able to burn it in dvd movie format.
.
3. make an avi using http://www.freemake.com/free_video_converter/ . you lose the menu and all extra features, but you choose a single audio channel and can reburn the dvd to a movie dvd. it will play more like a VHS or a CD where there will be no menu and you can skip to the next section, but it will not have any of the features of a dvd. still this is an effective way to copy dvds. using freemake "add" the dvd and then convert it to avi. you can use freemake to burn it on to another dvd by "adding" the video of the avi you created, and then burn a dvd. make sure it has the correct audio channel. often it wil be an audio channel in a different language, so you always should check you selected the correct audio channel. the english audio channel often looks like britan's flag. sometimes the avi is created but does not burn in dvd movie format usually because it's larger than 4.7gb. you can just save the avi on a hard drive if this is the case.
.
4. open up the dvd using your computer's file explorer (don't play the dvd) and you will see a few folders. navigate to the "video_ts" folder and find the 3-8 largest files usually in vob format. this is your movie broken up into 1gb files. copy these large files all directly on to your hard drive "c:". you can assemble them into a single avi in freemake video converter if you wish. you may also try to burn them to a dvd if you wish. "vlc media player" will play vob video files, or you can convert the files to avi using freemake video converter to play with windows media player or other media playback software.
.
5. if you are able to copy the dvd to a hard drive and watch the dvd, but are not able to burn it in any way, you can simply save the dvd file on your hard drive, or you can do what i do and burn it to a dvd but write "PC ONLY" on the dvd, so you have to play the dvd in a computer to watch it. i do this partly because i may be able to figure out a way to make dvd menus in the future, or better software will come out to make dvds for free. if you have a single video file or you have the movie in video_ts folder format and want to keep it in that format, you can burn it to a single dvd. if the entire size is more than 4.7gb (the size of a normal dvd-r) or sometimes you are unable to burn a single 7z file more than 4gb size read the rest of this paragraph. to reduce a large file burnable to multiple dvds (or a single file unburnable to a single dvd when using 7-zip), use 7-zip and select "compression level - archive" and "split to volumes, bytes - dvd". sometimes you need to split less than dvd size (so 2500M). this will split the file into multiple files which each will fit on a seperate dvd (or the same dvd). after the dvd is successfully burned, if you want to watch the movie again, you can put the dvd back into a computer. you should copy all the files from the dvd (or dvds) to the SAME FOLDER on a computer with 7-zip installed, and click on the 001 file and it will reassemble itself into your original file. then you unzip the single file, and you have your files back. (if you are double clicking on the 001 file and nothing is happening, you have to set the default program to open zip files as 7zfm.exe i believe. this is the file you want to select when double clicking and reassembling split zipped files. again this is only important if you are clicking on the 001 and nothing is happening). other rars or zip software should be able to this if you prefer using another type of encoding software.
.
if you are able to copy the files and when you try to watch the video it's jarbled, there is nothing i know to do (you are screwed). sometimes disks will not copy at all (i don't know why). again you are screwed if this is the case. it's about 1%of dvds which are not copyiable at all, so the vast majority of dvds are copyiable with one of these methods.
.
here are some linux programs from best to worst if you are using linux
.
dvd shrink with WINE (winetricks, wineq4, winetools)
k3b (install k3bsetup if burning doesn't work)
brasero
kdenlive
.
some dvd players do not play every type of dvd. i don't know why every dvd does not play on every dvd player. i know you want to try to burn the dvd as region free or non region free if one does not work on your dvd player. i know in dvd shrink it makes you "guess" the correct region, and then removes the copyright protection if you guess correctly.
.
making a dvd from multiple videos
.
use "freemake video converter" http://www.freemake.com/free_video_converter/
.
the rest of this page is instructions for me to remind me how to create a fully customizable menu. if you wish to read these instructions, you can. again, the dvds will not work on every dvd player because of all the bugs in dvd menus. most dvds you buy have no bugs in the menus. i don't know how long it will take until i figure out how to make a 100% customizable dvd work in all dvd players. if you want to have 100% customization, you can follow the instructions below. if you don't care about 100% customiaztion, there are programs you can use to make template menus, and those dvds will work in every dvd player. they are available in my application downloads i think.
.
using kdenlive in debian, create the video part of the dvd. create a menu in kdenlive also. if you want a video background for the menu, you will need to layer the video in kdenlive and the output the video in a low enough bitrate as not to cause a buffer underrun on dvd players. the menu creation software will be able to tell you if there is a possible or assured buffer underrun. i think you want to output the chapters and menu in mpg.
.
this code adds blank navs, which are essential to import into dvdauthorgui.
ffmpeg -i /home/leck/Desktop/xmasdvd/copacabanaleck.mpg -f mpg -target ntsc-dvd -vcodec copy -acodec copy /home/leck/Desktop/xmasdvd/copacabanaleck2.mpg
.
as for the menu, you want to make it in kdenlive and output in mpg. then add the blank nav to the menu. remember that if you want a video background to the menu, you need to layer in kdenlive and probably reduce the bitrate.
.
move all the video files on to a windows computer. you need to use a program in windows to demultiplex the menu into elementary audio and vidoe files. the video is mp2. i forget what the audio format is.
.
using dvdauthorgui in windows, put the menu and chapters and or titles into the project.
.
render the video_ts folder.
.
burn with cdburnerxp
.


.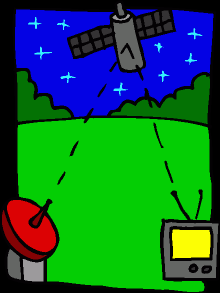 .
these instructions are how to record video. you use almost the same exact method to stream video. instructions to stream video are below this section.
.
use open broacaster software to record. installing OBS is easy, but obs does not explain how to record easily.
.
the defaults should be fine for installing
https://obsproject.com/download
.
after installing obs you need to add the source of "display capture" to record what you see. again the defaults should be fine unless you understand what you are changing. another good choice with sources is "window capture". window capture allows you to get a single application instead of the entire screen.
.
after adding the source left click "start recording" and minimize obs. when you are finished left click 'stop recording' and your computer will automatically start saving the video to your "videos" folder (for long videos this could take quite some time). in windows 10 this folder is "c:\users\leck\videos". it is something similar in previons windows versions. if you record without adding a "source" it will still create the movie file, but it will simply be a black video until you "tell" obs where to get the video from.
.
you can watch the video with any video player (you can probably also watch the video in OBS somehow), but i suggest "vlc media player"
http://www.videolan.org/vlc/ (there is a supported 64 bit version of vlc on a different web page if you have 64 bit windows and want the 64 bit version of vlc to ensure your videos are always playing at max speed)
.
you can use "freemake video converter" to convert the video to a different format or burn the video to a dvd after you create the video. obs defaults to .flv, but that's not that common of a format. i suggest change the format obs saves to .avi (avi is probably the most common video format). avi is great compression (takes low disk space compared to other formats) and works with everything like youtube.
.
streaming video in real time
.
you need "open broadcaster software" installed for these instructions. (see the section above this to install obs)
.
streaming to websites like youtube and twitch are the easiest way to accomplish live streaming. in addition to streaming, twitch (and probably other stream websites) save your videos for up to 1 month, so you can backtrack and save things you recorded afterwards. this means you don't have to specifically change to record or stream. you are always recording when you are streaming, and streaming usually takes less computer resources than recording. there is the other option of streaming to a middle website which streams to more than 1 website at a time. there is no reason to use anything other than restreamio at this time for this. really the only reason you would use restream is if there is a legitamate reason to stream to more than 1 website. i stream to twitch and youtube because some people in other countries cannot see twitch, and i want to stream to twitch for the easy save video feature twitch has. if you are simply streaming so one friend can watch it, i suggest youtube or twitch, not restream. also restream requires a pretty low latency, so you can't be lagging or dropping packets when you use restream.
.
obs and twitch
.
twitch is like "live" youtube. twitch is the preferred choice of obs, and also twitch has a lot of options for the people chatting while watching. i find the twitch website to be disorganized, but very useful. you probably want to follow my instructions to set up streaming on twitch rather than trying to navigate twitch's website. hopefully twitch will simplify their website or organize it better.
.
make a twitch account
https://www.twitch.tv
.
i suggest looking over the profile settings before you start streaming
https://www.twitch.tv/settings/profile
.
when you are ready to stream go to the dashboard and get the key to link obs to twitch.
.
you can replace "electorite" with your twitch account name to access your dashboard
https://www.twitch.tv/electorite/dashboard
.
go to "settings" to get the key required for OBS
.
copy the key and go to OBS and click on "settings"
.
after the settings window opens in obs click "stream" on the left, and there is a place to enter the key you recieved
.
this is my stream. i keep it going almost 24/7
https://www.twitch.tv/electorite
.
obs and youtube
.
similar to twitch. follow the same method.
.
your url will be
youtube.com/user/[channelname]/live
.
so for me it's
https://www.youtube.com/user/lecksite/live
.
obs and restreamio
.
https://restream.io/
.
setup is easy if you use the same browser to log into youtube and twitch as restream. use the wizard. don't do it automatically
.
this tended to "drop" often for me, so i stream to only twitch currently. if you have a solid internet connection and a fast computer you can try restream. it might go better for you than me, even though i have a solid internet connection and a fast computer. it helps to increase the process priority of the application which streams. to increase the priority of obs stream... in "settings, advanced" change the "process priority" of obs to "above normal" or "high". this will help restream not drop your stream as often due to high latency or a slow internet connection.
.
streaming with other devices
.
when you stream video it runs on a 30 second to 2 minute delay, so it's not instantaneous. it is cool to have close to real time streaming for free. you could use the same method for a mobile device (phone or tablet) or a gaming console (ps4 or xbox). i don't know what mobile applications connect with twitch. i know you can stream from gaming consoles, but i don't know how to do it. the setup should be similar. if you use a camera and use something like skype showing on your comupter screen, you can turn it into "live television" all by yourself, meaning what the camera is recording is being uploaded immediately to twitch.
.
if you are going to play a game or use skype while you stream at even a dvd quality resolution and framerate (no audio), you are looking at at least 8 gigabytes RAM with a good internet connection. at least a 2 core CPU, and a decent GPU. you will not be able to stream real time video from your web camera at dvd quality with 4 gigabytes or less of ram, or an average single core cpu. using a phone or a ps4 would require less hardware specs, but you still would need a fast connection, and i doubt the resolution and framerate would be as good on a mobile device.
.