.
1. go to https://marketplace.secondlife.com/
.
2. sign in to the marketplace (your browser might automatically sign you in, which is ok)
.
3. left click "my marketplace" then "create a store" (or go to this link https://marketplace.secondlife.com/merchant/terms_of_service which is the same thing)
.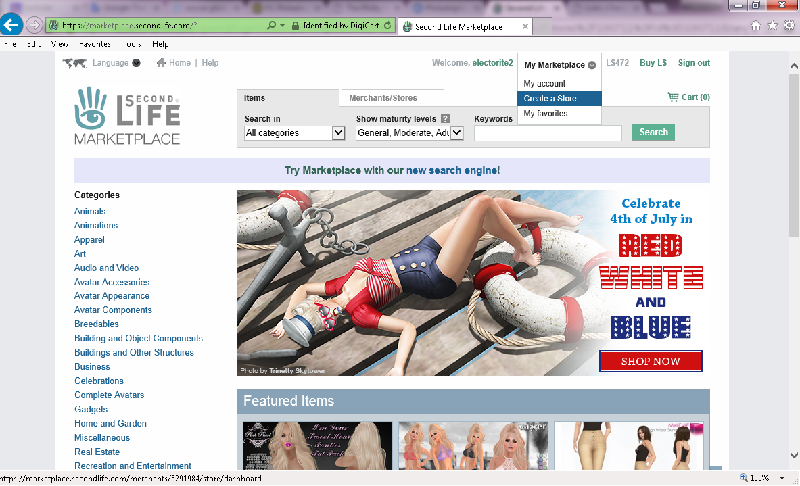 .
4. check the box and left click "continue" (you can add your payment information and it will not charge you ever again, so don't worry. you do need to buy at least 640 lindens worth to be allowed to set up a marketplace store. you can use the same payment information which have already been used for other second life accounts)
.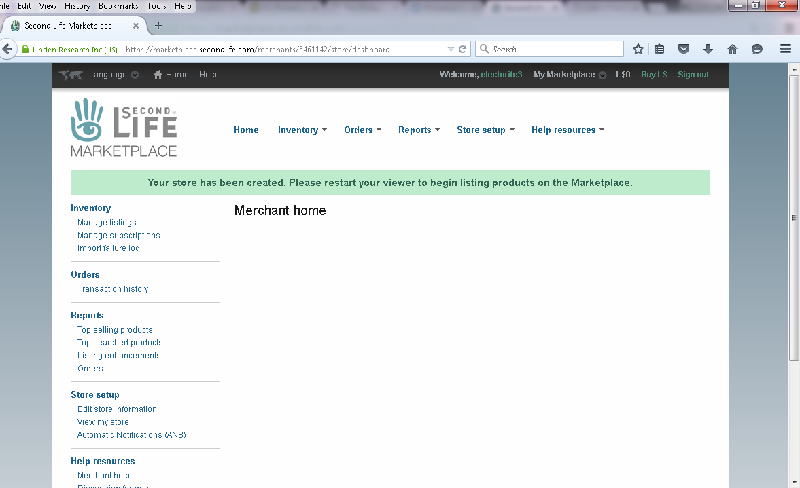 .
if you get the error page, close your web broser and open your web browser to fix it. second life has a lot of bugs, if you haven't already noticed.
.
you will probably need to log out and log back in of second life if you were logged in while you did this.
.
i use firestorm mostly. these instructions should be similar for any full viewer. the rest of these instructions will show you how to put things on the marketplace. you can put "no transfer" things on the marketplace, but you have to be able to transfer them. you can set it up so the next owner cannot transfer, but you cannot put anything on the marketplace you cannot transfer to another avatar. also if you want to avoid getting a possible ban from second life, you should never put anything you didn't create yourself on the marketplace, especially if you are trying to make money off of it. i only put thinigs i make on the marketplace for free. (if you do not see "marketplace listings" in your options, log out of second life and log back in)
.
5. open up "avatar, marketplace listings" as seen in the pictures.
.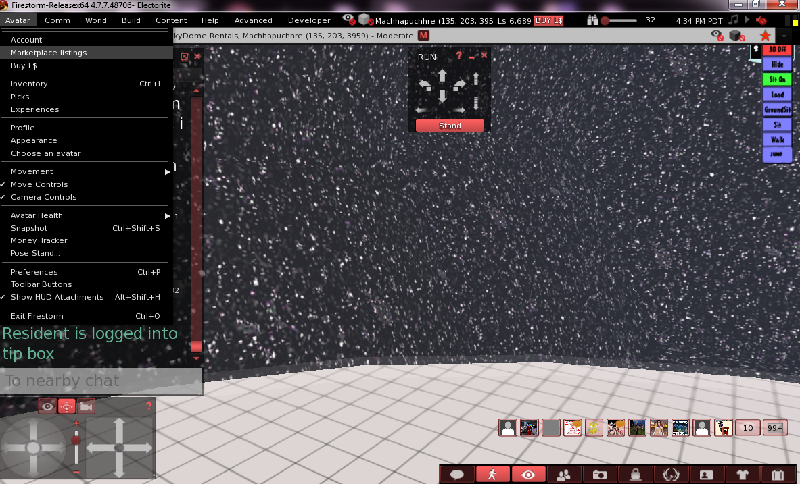 .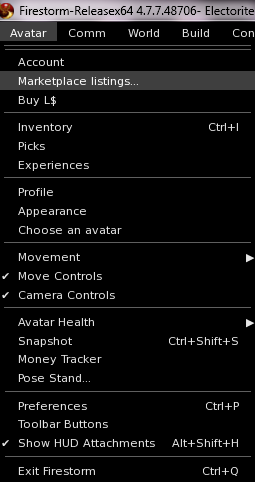 .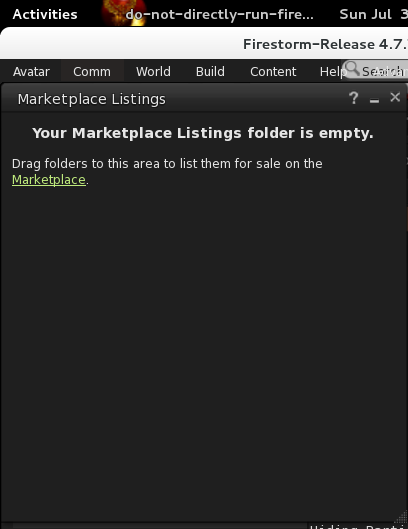 .
6. i suggest using folders for everything. there are other ways to put items on the marketplace, but in a single folder is best. also you cannot use nested folders (you cannot have folders inside of folders) and you can't have more than 46 items or whatever in a folder. (if you want more than 46 items in a single marketplace listing, you can probably put them in the contents of an object and put that object into a folder"
.
7. this is extremely important. you need to COPY THE FOLDER YOU WANT TO UPLOAD TO THE MARKETPLACE SO YOU HAVE 2 IDENTICAL COPIES. i always want to keep a backup of the item in my inventory. even if the item is copyable, the folder is always moved from your inventory to the "marketplace listings" window, so you should always make a copy of the folder first
.
8. left click one of the folders and drag it from your inventory to the "marketplace listings" window. do not close the window or do anything for at least 30 seconds while the second life server catches up (or it will bug your folder and you will have to upload again)
.
9. right click the folder in your marketplace listing window and left click "create listing"
.
10. log into the second life marketplace website (https://marketplace.secondlife.com/) and left click on "my second life" and then "merchant home" and then "manage listings" (if you do not get this option remember to close your web browser and open your web browser, then log back into the marketplace website)
.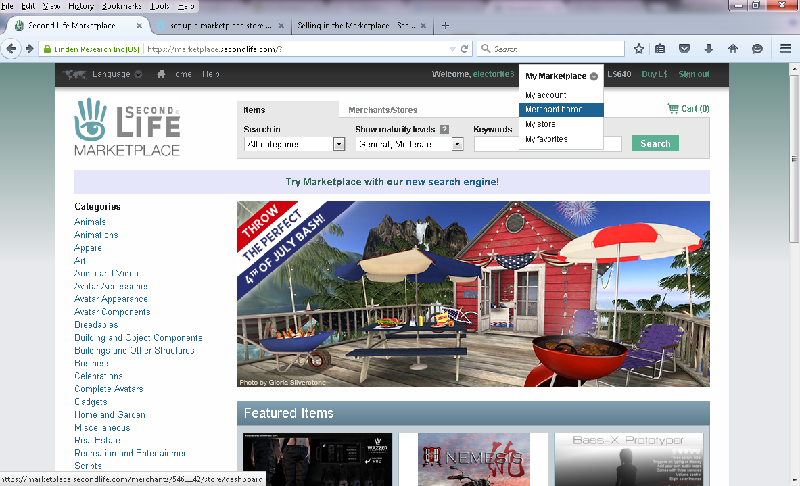 .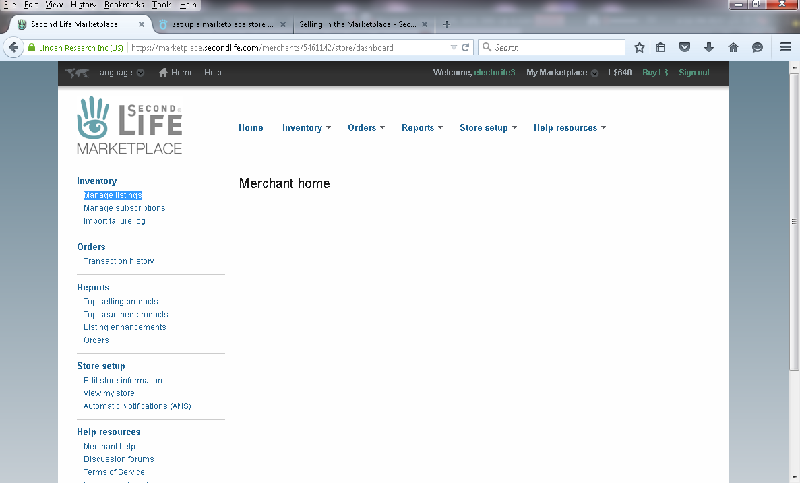 .
11. scroll to the bottom, and you should see the thing you uploaded under "Viewer-Managed Marketplace"
.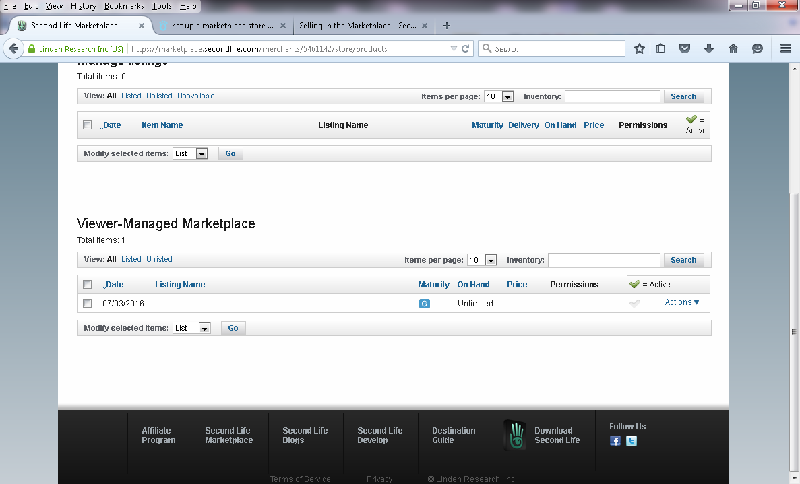 .
12. left click "actions" to the right of the folder you uploaded and left click "edit"
.
13. fill out the page and when you are finished, left click "update"
.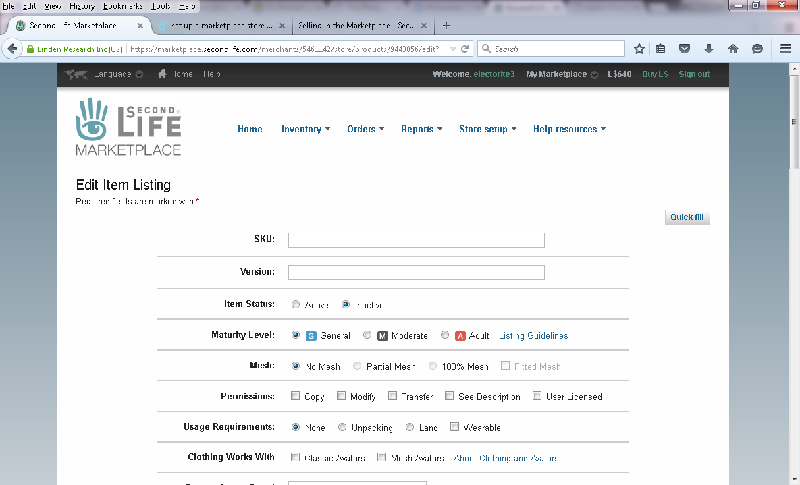 .
14. you can access the folder immediately after you click update, but it takes about 1 hour for the "my shop" page to display the new item
.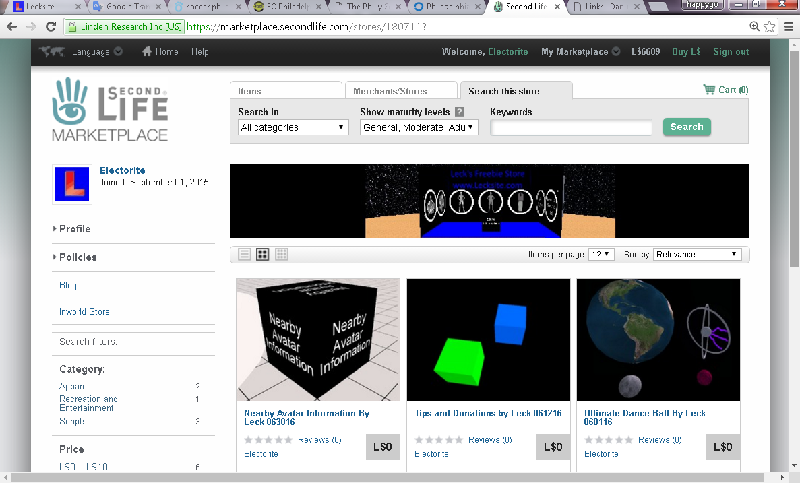 .

.